So I'm thinking of making Wednesdays a day to post something that I've worn over the last week. Whether it's a face of the day, just a eye or lip of the day, my nails that week or some rad earrings. And I'm kicking off with the makeup that I wore last night to salsa and a mini review of the Barry M Gelly Hi Shine Lip pencils (
V
).
Firstly, I have 3 of these babies but last night I decided to just take pics with 2 different lip options, as I couldn't decide which one to wear. So here's a lil pic and a swatch of the ones I have:
Top to Bottom: Shade 3, Shade 5, Shade 1 (look at that, I bought all odd numbers!)
I really like these pencils. REALLY LIKE them. In fact I think there are 5 colours and so I will probably have to go get the other two at some point, because one is very orangey and orange lips are totally fetch this season! (Stop trying to make "fetch" happen?)
They are really lovely, glossy, they go on super smooth and they are nicely pigmented. They feel really comfortable and also stain the lips a bit so they last a bit longer than a regular gloss.
So here's what I did with them. I decided on a super neutral eye so as not to take the focus off the lips. Then I went and added a tonne of black liner and false lashes! Good one, Sal! But I digress, a full list of products after the pics.
Option 1, with Shade 1
Lip close up
Option 2 with Shade 5, which is the shade I kept on for salsa. It's a lovely bluey pink and it's really wearable for day or night.
Lip close up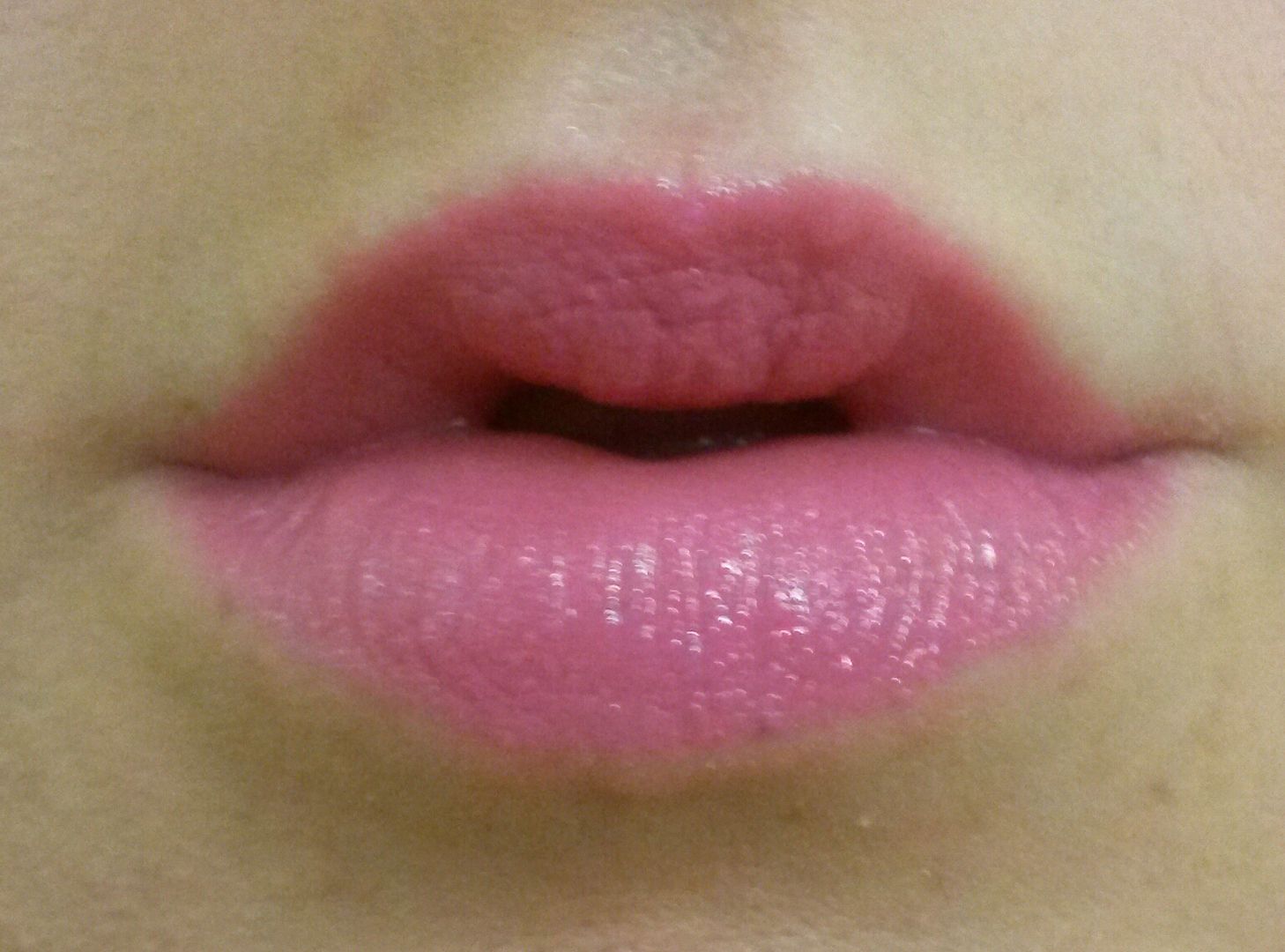 Barry M Gelly Pencils are available from
Barrym.com
, Superdrug, Boots and some Tescos and cost £4.99 each.
Here's an eyeball close up too
And a full list of the products I used for this look:
Face
No.7 Superlight Stay Perfect Foundation - shade Calico (
CV
)
Collection Lasting Perfection Concealer - shades 1 & 2 (CV)
MeMeMe Blush Me Box - shade Pink (
CV
)
Sleek Contour Kit - Light (CV)
Marks & Spencer Autograph Invisible Finish Loose Powder - Translucent (
CV
)
Eyes
Limecrime Eyeshadow helper (V)
B. Vivid Eyeshadow (single) - shade Cinnamon (V)
MUA Matte Palette (CV)
Makeup Geek Gel Liner - shade Immortal (CV)
Eyeko Skinny Brush Mascara (V)
Duo Eyelash Glue (CV)
Random eyelashes from my makeup case that I reused
GOSH Eye Brow Pencil - shade Grey Brown (CV)
Eyeko Brow Gel (V)
Lips
Barry M Gelly Hi Shine Lip Pencils (V)
As you can see I am not good at taking selfies; in fact most of them make me look like hatchet face! ....
Sorry, I should maybe have put a warning on that!
Happy humpday all.
Love & stuff
Sal xXx
Last weekend, I was hanging out with some friends in Brighton, doing some makeup shopping as you do! And my friend overheard a girl ask the assistant in Superdrug which brands were not animal tested. She apparently had a list and it got me wondering how accurate it was, my guess is that it wouldn't differentiate the ones owned by parent companies that test either way. So I thought I would do a list.
I know I know, there's a load of lists out there; so this one is UK specific to the brands available in pretty much all Superdrug & Boots branches (I also added a few brands you can buy in larger Boots); not brands you can only buy online or in specialist/department stores.
I know this is a vegan blog but this is NOT a list of vegan brands, just the ones that don't test and that either definitely do have vegan options or probably do... the only brand I know for sure is fully vegan is Superdrug's B range.
For a much more comprehensive list, that includes online etc brands too, take a look at this brilliant list from
The Bunny Beautiful
.
Brands that do not test
2true
B.
Barry M
Beauty UK
Collection
GOSH
Models Own
MUA
Nails Inc
Natural Collection (Boots)
No.7
Revolution
Seventeen (Boots)
Sleek
Soap & Glory
Brands that do test
Benefit
Bourjois
Clarins
L'Oreal
Maybelline
Max Factor
Rimmel
Revlon
Sally Hanson
Stila
Brands that may not test but are owned by a parent company that do
Essie (Owned by L'Oreal)Miss Sporty (Owned by Coty)
NYC (Owned by Coty)
NYX (Owned by L'Oreal - available in some Next Stores)
Smashbox (Owned by Estee Lauder)
Urban Decay (Owned by L'Oreal)
So you can see there is a pretty good choice of brands that don't test on animals now in our drugstores. High end stuff, not so much. I kept it to drugstore because pretty much ALL of the high end brands they sell in departments stores like House of Fraser are not cruelty free.
Did I miss any brands off that your local Boots or Superdrug sells? Let me know and I'll add 'em in!
Love & Stuff
Sal xXx
When I think of M&S I don't generally think of makeup I think of comfy bras and sensible pants. But no more....
They've really upped their game and brought out a lovely range of makeup. They have a basic range too which is cheaper, but I'm talking today about their Autograph range. I emailed them recently to check if their mascaras were vegan (as the ingredients lists all say 'may contain carmine') and they confirmed that they all are, as are most of the Autograph makeup products. They are also BUAV approved, as are all their own brand cosmetics. Their response is below so you can see which products to avoid.
"Thanks for emailing us about our range of beauty products.
I've checked our systems
and
can confirm all four mascaras are suitable for vegans.
The only item in our Autograph range with carmine listed in the ingredients is our True Colour Blush (T224003). Also, the only other items in our Autograph range which are unsuitable for vegans are the Sheer Lipstick (T222101)
and
High Definition Eyeliner (T222530)."
So I thought I'd post a bit about some of the products I have and what I think of them. Starting with....
This powder is AWESOME. It's super finely milled and silky so it won't be cakey or make the face look too dry. It's perfect for setting concealer under the eyes, as it's fine enough not to exacerbate any creasing in that area. It is very comparable to MAC's prep & prime finishing powder, which I still have a whole pot of from the days when MAC were cruelty free. I used to keep it in my bridal kit!
This foundation has the most beautiful silky texture and I wish wish WISH it worked for me but I'm just not convinced it ever will. This is because my skin is dry (at the moment really REALLY dry for some reason) and it most foundations show this up, this one especially. Also, Beige is not the right shade for me, it's too dark (it's hard to tell from the in-store testers sometimes), but I think the lighter one will be too light. I don't want to give up on it yet, because I think this foundation could be great if my skin were in a bit of a better condition (and I had the right colour of course!) If you don't have dry skin, definitely give this a go. It's a matte foundation so you don't really need to powder it, unless you have super oily skin.
PURE Colour blushes are vegan, TRUE colour blushes are not! So this is a Pure Colour one in the shade Coral. This blush is lovely and it's pigmented so you don't need a tonne of it. This is the only colour I have and my swatch pic sucks a bit but it's a lovely peachy flush, not at all as orange as it looks in the pan. I will probably pick up more colours.
So there you go. Just a few items out of a big range. I don't have a concealer yet, or a foundation that works well on my skin type, but I'm definitely going to be trying out more items from this range.
Let me know if you've tried any of this range and if so, what you think of it!
Love & Stuff
Sal xXx
So I've read recently a few people saying they don't buy from Boots because they animal test, which is not something I ever thought was the case. So I contacted Boots to check and here is their response:
"Thanks for contacting us about animal testing and whether our products are sold in mainland China.
Boots and its subsidiary businesses do not test any products or ingredients on animals, and do not commission others to do so on our behalf. In fact in March 2013 it became illegal for any company to test cosmetic products or ingredients on animals in Europe. We realise that until satisfactory replacements are available, other businesses around the world will carry out some tests for their own particular products and ingredients to meet regulatory requirements. These safety tests may sometimes involve ingredients of the type used in products which we manufacture and sell.
We would definitely like to see an end to all animal tests, and take a keen interest in the development and introduction of alternative forms of safety testing.
Boots do not sell Boots products in China, this is in part due to the mandatory animal testing policy. We do sell products in Hong Kong, but the regulations in Hong Kong are different to mainland China.
Boots has had this policy in place for over 20 years, and fully support the change in laws that came into effect last year. I hope you find this helpful and reassuring."
So I think they're saying that some business do test (that they stock) but they don't and they don't sell their beauty products in mainland China. So to me I'm happy to still buy No.7.
What do you think, do you think I'm reading it wrong?
Love & Stuff
Sal xXx
Thought I'd post a quick face of the day for no reason other than I am wearing my favourite eyeliner. Full list of products under the pics.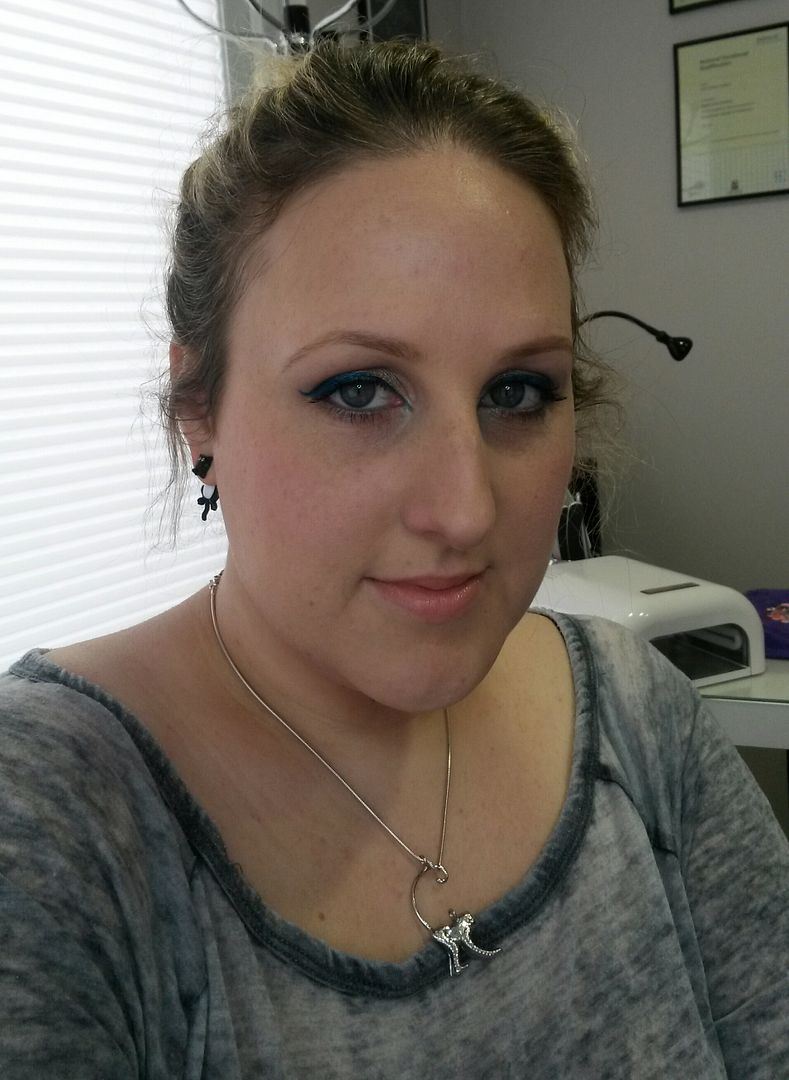 Eyeball close up!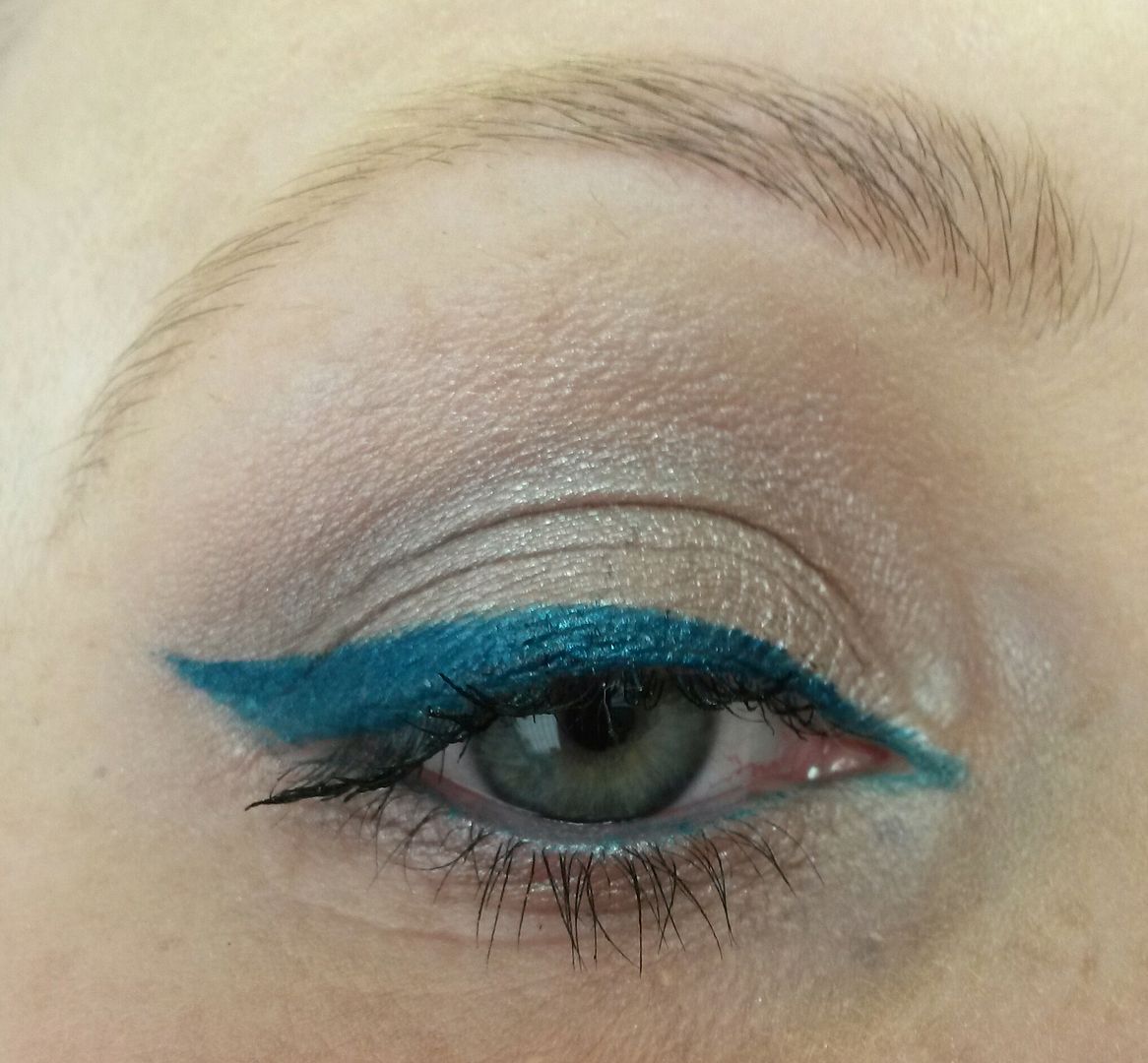 Horrible lip shot - I suck at taking lip pics! haha.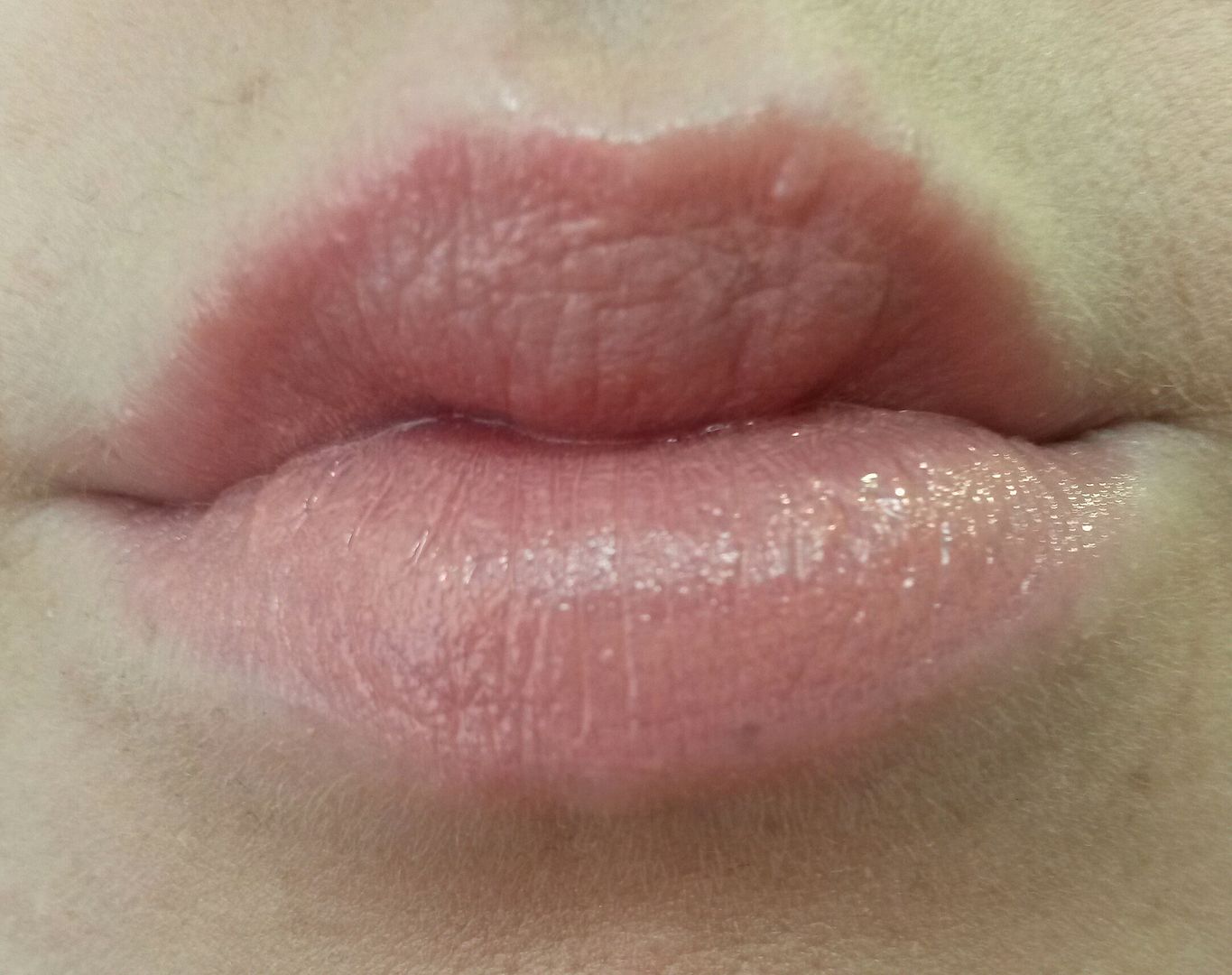 And look at my earrings! I LOVE them. (From Claire's Accessories)
Full Product List
Face
Neve Flat Perfection Mineral Foundation
Light Warm
(
V
)
Sleek Contour Kit Light (
CV
)
Neve Cosmetics Setting Spray
Eyes
MUA Undress Me Too Palette Shades
Lavish (crease/transition shade), Reveal (lid), Exposed (outer crease), Shy (upper crease) & Naked
(browbone highlight) (
AV
)
Makeup Geek Gel Liner
Fame
(
CV
)
ELF Volumising Mascara
Black
(
V
)
Billion Dollar Brows Brow Powder Blonde (
AV
)
Bilion Dollar Brows Brow Gel (
AV
)
Lips
ELF Lipstick
Nostalgic
(
V
) (just their cheapy £1.95 lippy, I LOVE it!)
GOSH Volume Lip Shine
Soft Coral
(
CV
)
Have a great weekend everyone!
Love & Stuff
Sal xXx
Lip balm; I'm obsessed with it. I can't go more than an hour without reapplying it. I love it! I use tonnes of it. In fact before I was vegan, I used to make my own because I used so much. But over the last 6 years I've tried to reformulate it without the beeswax and I still don't have it as I want it. But one day I'll get it right and maybe I'll start selling it. But for now, here's a round up of some of the vegan lip balm options available to us in the shops and online.
Superdrug Little Blue (or Pink) Tin - £0.99 from Superdrug (

V

)
I can't actually find these on the website at the moment, although they are showing the little green tin (which has aloe in). I put these first as they are the most basic of all the lip balms I'm showing. They are basically a pot of petroleum jelly. And if you're vegan, you probably don't support animal testing companies, which means vaseline is out, so here's a good alternative. Cheap as chips, super basic. The blue is plain, the pink I think has strawberry flavour. I'm not a fan of petroleum based lip balms because I think they feel really greasy. But for 99p, can't complain.
Balmi Lip Balm - £4.99 from Boots (I actually found mine in a large Tesco) (

CV

)
The packaging is what made me buy this lip balm and the fact that there's quite a few flavours; but it's the packaging that actually has made me not want to buy any more. I have two, strawberry (pictured) and mint. And I like the balm although it is petroleum based, so as above it's a bit greasy. But the packaging is pretty crap; at £4.99 for an average lipbalm, it's not really good enough. After a few days, it just kind of breaks and doesn't close properly - no good for a handbag!
Palmers Cocoa Butter Formula Lip Balm - £1.89 from Boots (

AV

)
Feb 2017: Removed as i found out they use bovine fat in all their products - BARF! Also, I'm no longer sure of their cruelty free status. So have removed from my cf list too!
I bought this when I was buying makeup in M&S (their Autograph range really is quite vegan friendly!!) and when I saw there was no beeswax etc, thought I'd give it a try. There's a few different flavours, I went for Cherry Blossom. It smells nice, I don't love it though. It's petroleum based and it's quite thin so really doesn't last long or really do much for dry lips. Pretty tin though!
Yao Hemp Lip Balm - £2.75 from Yaoh (

V

)
My favourite of these is the spearmint but I couldn't find it. I normally stock up on these at vegfest! I love them. The texture is great, I like the smell and the coconut one below has SPF in. They are very moisturizing and last well.
If you read my food blog, this won as my favourite lipbalm in my beauty faves post last month, but I'm going back on that, as you'll read in a minute. But not to take anything away from this balm, because I really really LOVE it. Great texture, no petroleum and tonnes and tonnes of flavours (my favourite is the licorice flavour). Doesn't last as long as my favourite below but still a great lip balm for stopping the chapped lip situation. Only con is that they're not that easy to get hold off, they have to be ordered online.
Crazy Rumours Lip Balm - £3.50 from Holland & Barrett (

V

)
This one wins as my favourite! The texture is perfect, they last a long time, they are moisturising, they're affordable, they come in tonnes of awesome flavours AND you can now buy them in Holland & Barrett. As most towns now have an H&B this is great news as they're much easier to find than they used to be. I was pretty restrained in the buy one get one half price sale last week and only bought 2. Raspberry Sorbet is my favourite but they have a tonne of great flavours if the smell of skittles is not your bag!
Have I missed your favourite vegan lip balm off? Let me know so I can try it out!
Love & Stuff
Sal xXx
Can you believe it's March already? Well as February is over I can now share my favourites for February. I've not done one of these posts before on here (I did do a big 2013 beauty favourites post over on my food blog a while back though) but I love reading them on other blogs / watching favourites videos on youtube, so here's mine.
OK it's pricey but I think it's gonna last ages and it's awesome! It has just a tiny bit of colour so it should suit everyone and just helps keep my brows in place. I use it over my Anastasia Brow Wiz Pencil. I also have their Skinny Brush mascara which I LOVE as well - I'll be posting about a bunch of vegan mascaras in the next week or so, so stay tuned for that!
Real Techniques Setting Brush
.
So I posted the recently published GOSH vegan list in my last post and I couldn't wait to try some stuff out. I bought the Renaissance Gold liner first because I love gold in the waterline and I LOVE it. It's really pigmented and very creamy and because they're waterproof they last. I've been looking for a replacement for my NYX Gold Slide on liner because I've been asking them for almost 3 months about what colours are vegan and they just ignore emails, tweets, facebook messages..... bad customer services, NYX! BAD! Anyway I digress. These liners are great, so I picked up 2 more in Superdrug the other day, because they had an offer on GOSH eye products (2 for a tenner).
Here's a swatch of the ones I have. L-R are Purple Stain, I Sea You and Renaissance Gold. Gorgeous right, definitely gonna have to get more!
This modern women's fragrance comes in a contemporary styled bottle. This scintillating fragrance combines top notes of pepper and purple freesia accords. In the middle white heliotrope and jasmine accords go beautifully with hibiscus blossom and rose. Precious cedarwood and sandalwood create a delicate base fragrance, which expresses the essence of feminine beauty
Yeah I know, a bit wanky! But fragrance descriptions usually are. It's lovely anyway.
Yes yes I know the picture is a completely different product, to the one linked above, but the tub is the same and I binned the empty Rescue pot before taking a pic as I totally finished it. The one pictured, I'm not sure they still make it, it's been in our cupboard a while so once I've used it I'll be buying another Rescue Treatment. But anyway, I try not to wash my hair more than 1-2 times a week as it's colour treated and it just gets even more dry! So I like this to really condition the ends of my hair. It smells lovely and unlike some other 'natural' conditioners, it actually works on my dry hair! I also love Naked's shampoos and just bought a new one, so maybe that'll be in next month's faves if I like it!
That's all for my February Favourites. What's been your favourite products this month?
Love & Stuff
Sal xXx